The amazing tale of Ali Pasha
by Michael Foreman (Templar, 2013)
9 chapters; 128 pages with numerous beautiful colour illustrations
Subjects: World War One, Gallipoli, Egypt, Navy, animals, tortoises, junior fiction (Year 5-8)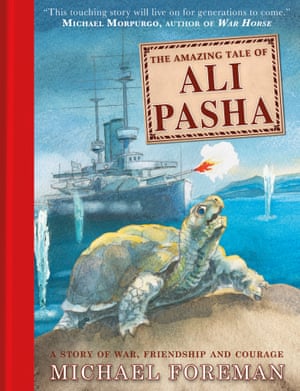 I tracked down this title after reading an article in the Guardian that asked well-known authors, "
What are the best first world war books for children?" This book was Michael Morpurgo's pick.
On the cover, it is subtitled "a story of fear, friendship and courage". The story, based on fact, is that of Henry Friston, a 21-year-old seaman on the HMS Implacable. In April 1915, the Implacable sails to Gallipoli and Henry and his gunner mates are sent on shore at X Beach (one of the five landing beaches at Cape Helles) to act as stretcher bearers. Sheltering after a shell blast, he finds a tortoise and determines to take it - against orders - back onto the ship with him. Soon afterwards the Implacable leaves for Egypt and Ali Pasha becomes a companion and good luck totem for the four friends who keep his existence on board a secret.
The author describes these events through the eyes of a young reporter, Trevor Roberts, who in turn hears them from Henry himself as an "old man" (actually not that old – only 59! – but presumably seemed so to the reporter!)
The endpapers contain family photographs of Henry as a young boy at school, a 13-year-old in his first job at the "Big House", a sailor in his Navy uniform, and after the war as a bus driver, tram conductor, father and (really) old man. There is an afterword by the author explaining how and when he met Henry, his son Don and Ali Pasha himself.
The final pages show some media coverage of Ali Pasha (who made The Times and even got to appear on the BBC's Blue Peter show) and tell of how he outlived Henry by ten years and died, aged at least 90 but quite possibly over 100, in 1987. By then, he had lived with the Friston family for 72 years.
You can see some of the beautiful illustrations from the book in Ali Pasha in pictures.
Books for Keeps says that
"most

stories

for this age group about the Great War concentrate on the trenches and the Army fighting in France, and it is refreshing to hear of the Navy's part in the campaigns and especially of the part it played at Gallipoli.
"
Michael Foreman is primarily an illustrator, but his book War boy : a wartime childhood

tells of growing up (he was born in 1938) in an English fishing village during

World

War Two. It is followed by

After the war was over

.
There is a

lovely article about him here in the Guardian

,

celebrating

the 50th anniversary of his first

book

.
Other books you might like:
Anything else written or illustrated by Michael Foreman about war (or peace), including War game,
War boy
: a wartime childhood and
The General
and also The little ships by Louise Borden.
A number of tortoises made it back to New Zealand after World War One - not all of them alive. One of the exhibits at the National Army Museum in Waiouru is a tortoise shell from Gallipoli.
This tortoise didn't enjoy the same long life as Ali Pasha, but there was another Gallipoli tortoise that did – in fact,

Torty

is still alive and

living in Hawkes Bay

. (

Tortoises

have been known to

live

to over 200 years old.)
KATHY WEBB/ The Dominion Post
The tale of the Anzac tortoise by Shona Riddell, illustrated by official Defence Force artist Matt Gauldie, was partly inspired by the story of another tortoise which was given to a nurse by a wounded soldier and lived out its life on the Kapti Coast.
Matt Gauldie
Have you read this book? Let me know what you think!