The battle of Messines Road
by J K & W J Moloney (Willsonscott Publishing, 2015)
Subjects: World War One, France, England, Ireland, Vietnam, diaries, bullying, junior fiction (Year 7-9)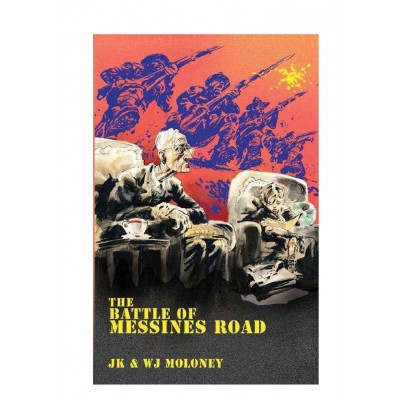 This story is set in Karori, a suburb of Wellington where Messines Road really does exist, as do several other street with names related to World War One. The year is 1968, and 10-year-old Zac is in strife on several fronts; he is often in trouble at school, doesn't have many friends, things are stressed at home and we learn that his dad is away at the Vietnam War. On top of that, he hates his paper run and longs for an easier, shorter one with fewer hills. However, it's through his paper run that he meets old Mr Moloney and begins to read to him in the afternoons – initially as a punishment, and at first from the newspaper, but later from Mr Moloney's old war diaries, dated from 1915 to 1917.
I liked seeing the growing relationship between Zac and Mr Moloney, and the diary entries are well-written and interesting, but their length could provide challenging and I wonder if some younger readers will skip parts of them and just follow Zac's story. I have listed this book under Junior Fiction, but the publisher's blurb says "t

he two intertwined narratives will hold a wide-range of reader interest and the perspective of 10-year-old Zac will capture the attention of the young adult market while still appealing to more mature readers."
Like many other men of the time, Jack Moloney (see below) was a fluent and observant writer, and other readers might prefer these sections of the book. The parts of the diary that I enjoyed most were not about the fighting, but about aspects of the day to day organisation of war that you don't often read about. I liked the descriptions of the officers' training course at Cambridge, his trip on leave to Ireland, playing football, visiting London and (especially) his accidental meeting with Rudyard Kipling at a hotel in Bath.
Having Zac read the diaries out loud presents a few challenges. It makes for long sections which don't directly affect Zac himself, and I wasn't convinced that a 10-year-old who has trouble pronouncing "Heliopolis" and "Bedouin" would be able to cope with the vocabulary, foreign names and some of the concepts involved. The switch between Zac's everyday life and the diaries also requires a degree of repetition to get him over to Mr Moloney's place, and starting and finishing each day's reading. The chapters where Zac and Mr Moloney attend the Anzac Day service at the Cenotaph, with more action and dialogue, are more immediate and gripping. (I also wondered why Zac's brother and
sister are seldom, if ever named. Perhaps it's to show the fractures in the family – but I would have liked to know!)
Thanks to Willsonscott Publishing for sending me a copy of this book to review. I hadn't heard of them before, but their website says they "

specialise in publishing non-fiction books with a New Zealand, Australian or special international military content and personal perspective" and

have "

a worldwide reputation for sourcing and producing high quality titles on New Zealand military history, covering noteworthy actions and previously untold stories from many theatres of war."
You can read a preview of the book (the opening two chapters) here on the publisher's website.
The National (an Abu Dhabi English-language newspaper

) calls it "an interesting hybrid of factual diary and dramatic story".
There is another review here on Bookfabulous (fabulous

title for a blog!)
This book has an

intriguing story behind its authorship

. Two authors are listed on the title page: J K Moloney and W J Moloney.
J K (John Keith, also known as Jack) Moloney was the original author of the diaries that Zac reads in the book. He was a 22-year-old law student when he left for WW1 in October 1915. After the war, he settled in Christchurch where he married and had three children, worked as a barrister and became involved in rugby administration, including being President of the Canterbury Rugby Union. His death certificate (from 1971) is reproduced at the back of the book and this is his record on the Auckland Museum Cenotaph website.
W J (William) Moloney is Jack's grandson. He grew up in Karori, has a Master's degree in War Studies and worked as a military analyst for many years. He is married with three children and currently lives in Abu Dhabi, UAE.
Jack Moloney's 120,000-word WW1 diary is held by National Archives, and William has transcribed it over a number of years, as well as researching the stories of some of the men mentioned in it. This is the diary that Zac reads out loud. William says that his grandfather, who died before he was born, and "Mr Moloney" in the book "have some similarities but they are not the same."
Other books you might like:
Reading this book made me realise that I don't know many other books written about Vietnam for younger readers. (There might be plenty of

American books

that I'm not aware of.) There is a lot of co

ncentration

on WW1 commemorations at the moment, and I'm sure many children wouldn't know that public opinion was so divided over our involvement in the Vietnam War.
One non-fiction title is Leon Davidson's
Red Haze
(Black Dog Books, 2006), about the experience of New Zealanders and Australians in the Vietnam War.
You can read more about New Zealand's involvement in the Vietnam War on the NZ History website, which says that "More than 3000 New Zealand military and civilian personnel served in Vietnam between 1963 and 1975... At its peak in 1968, New Zealand's military force numbered only 548. Thirty-seven men died while on active service and 187 were wounded. Two civilians serving with the surgical and Red Cross teams also lost their lives."
Have you read it?
Have you read this book? Let me know what you think!