The last Anzac by Gordon Winch, illustrated by Harriet Bailey
I was lucky enough to attend the launch of this lovely book at The Children's Bookshop, Kilbirnie, in March. You can read my review of the book here, and Harriet has very kindly agreed to answer some questions about the book, how she worked on it and her illustrating style.
The book is a lovely production and it' s interesting to see the Anzac connection (Australian author and publisher / NZ illustrator). How were you approached by New Frontier to take the job on?
Thank you! An editor from New Frontier Publishing sent an email asking if I would be interested in illustrating a picture book for them, and that it would be a ANZAC WW1 Centenary title for 2015. I jumped at the chance to illustrate a heavily referenced story and one based on a soldier who served at Gallipoli.
How would you describe your own illustrating style, and why do you think it lent itself to this project in particular?
I have a range of illustration styles and felt the light and descriptive drawing line was needed to depict the various scenes and peoples expressions. When it got to the colouring stage, the publisher originally wanted all the 1915 scenes to be produced in sepia (brown and white or black and white, as was the photography at the time) in order to have a clear contrast between past and present. I wished to retain full colour to make it visually appealing and descriptive. I wanted the oranges to be a lovely juicy orange! We compromised by having the 1915 scenes set on a darker cream background.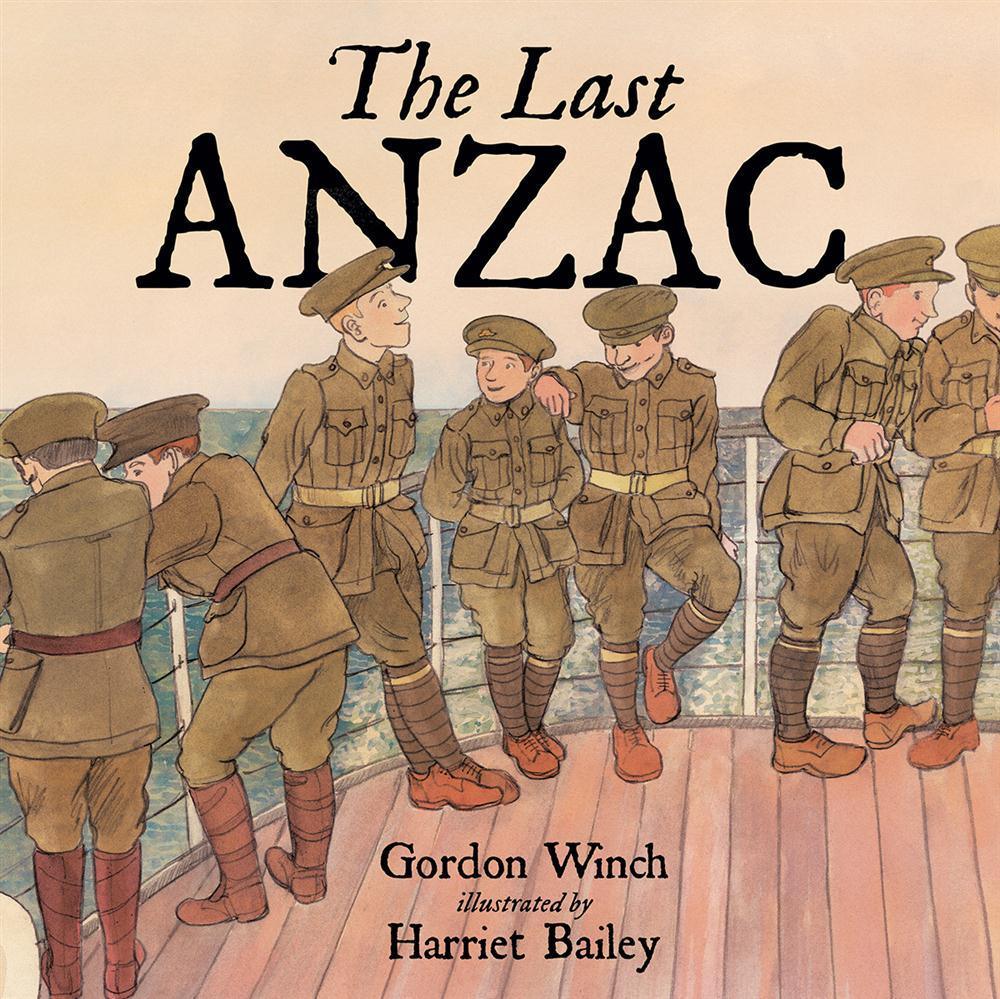 At the launch of "The last Anzac", Ruth Paul made some fascinating comments about how well your illustrations worked to balance, and in some cases extend, the text. She used as examples the sequence showing Alec carrying the water and then spilling it when he jumps into the trench, and also the feet in the hospital beds. How do those ideas develop, and how do you decide what aspects of the story you want to illustrate?
This particular story was light on descriptive detail so I filled it in by reading as many accounts of the war at Gallipoli as I could. Books with collections of photographs of WW1 and men's stories gave me ideas for the other soldiers that are shown. Soldiers injuries were horrific and of those that survived to be treated in the field hospitals, then the hospital ships and after that make shift hospitals in Greece and Egypt. I wanted to show men recuperating and with their wounds being looked after by ANZAC nurses. The missing limbs are sure to be noticed by children looking at the pictures.
Alec Campbell suffered many illness that kept him from sailing off to France to join the frontline but compared to his fellow patients he didn't have war wounds that were apparent until Bells Palsy appeared and 1/2 of his face became immobile.
As far as telling the story in pictures, "what happen's next" is the major vehicle for turning pages of a picture book. I really wanted to have a sequence of illustrations to show what Alec Campbell did for the majority of the time: carrying water from the beach to inland for the soldiers who were in fighting in the trenches. Illustrating the effort and the danger of such an essential and appreciated task is the most interesting part of the story for children, I think!
I guess you haven't met the author, Gordon Winch, but do you know much about him?
I read about Gordon Winch online and discovered he has had a long career as a teacher of children and training teachers and has written many engaging and humorous books for children of Australia.
How did you go about doing the research you needed for the illustrations? (at the launch, you told a lovely story about how you pinpointed the cottage that Alec Campbell lived in.)
It pays to use as many contacts that you have available when it comes to research and it was fortunate that I have a retired Australian uncle who is a whizz at tracing things using historical records. Part of the problem of weighing heavily on the internet for information is being certain that it is accurate. I had thought Alec Campbell was in a rest home at the time of James' visit, but the publishers assured me he was still living with his wife in her mothers cottage, address unknown.
My Uncle was able to consult Electoral Rolls to hone down on a street number using the information I provided, sourced from historian Jonathan King's book, Gallipoli: Our Last Man Standing. I used Google Street View to take a reference image of the cottage for the illustration. I like to think I have the correct little humble home where Alec lived!
As I have mentioned there was a lot of research needed to for a historical picture book. To avoid confusion due to the backwards and forwards of time and change in narration, I learnt it was important to keep visual elements limited to that which related to Alec and the story. I made a point of contrasting Alec's two ages: his visibly apparent youth when he went to war and his advanced age that he reached after a life where he achieved so much in Australia.
After Harriet had sent me these answers, I showed the book to my sister who came up with another question - which Harriet kindly answered as well!
Did you know any more about the boy's visit to Alec, and how that came about?
This story is based on a true event with one of the publishers' sons visiting Alec Campbell. New Frontier sent me two photos of father and son sitting with Alec and his wife Kate in their living room. I don't know how the visit came about. I imagine the boy wrote Alec a letter requesting to visit him in Tasmania. I expect that Alec wished to met this young boy who was so keen to met him and learn about his experience at Gallipoli.