The last Anzac
by Gordon Winch; illustrated by Harriet Bailey (New Frontier Publishing, 2015, "with historical advice from the Australian War Memorial")
32 pages, hard cover with beautiful colour illustrations
Subjects: World War One, Gallipoli, Australia, boy soldiers, Alec Campbell, veterans, picture books (Year 2-6)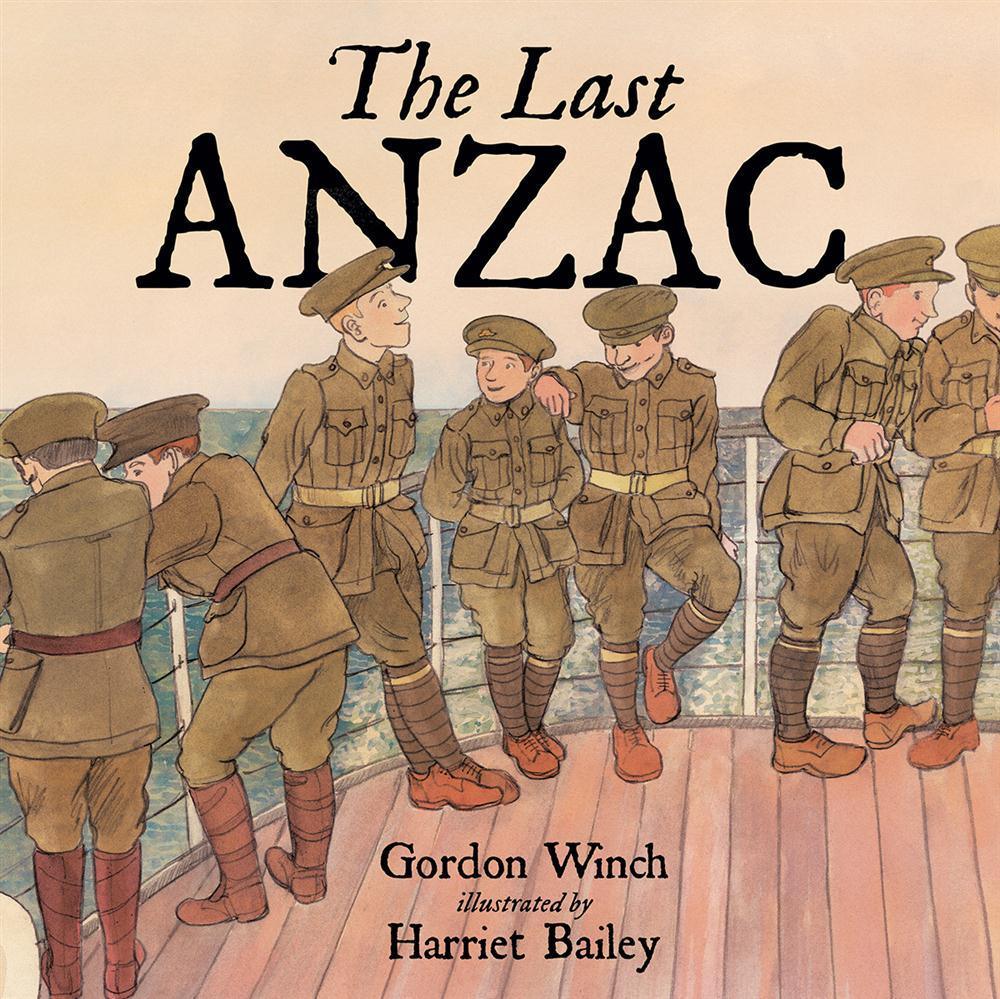 Alec Campbell enlisted in 1915 when he was only sixteen. He served in Gallipoli but got sick and returned home, a veteran, at the age of seventeen. He died in 2002, aged 103. This is his story, told through the eyes of a young boy called James who went to visit him in the year before Alec died. That's why this Anzac story starts, unusually, on a plane and then at an airport in Tasmania in 2001.
The endpapers contain facsimiles of wartime letters, postcards and envelopes, including a letter written by Alec (at Gallipoli) to his mother on 5 November 1915.
In Aussie reviews, writer Claire Saxby (Meet the Anzacs) points out that "it's not easy to share the enormity of a war with young readers" and describes this as "an introduction to WW1 for early primary readers, showing them Gallipoli through the eyes of someone who was there".
Teachers' notes include the set of questions drawn up by James and his classmates which he took to ask Alec on Sunday 5 August 2001. Question 16 is What was your greatest moment?

and the answer (

Eating oranges when we got off Gallipoli

) appears in one of my favourite illustrations. Also look out for the beautiful illustration of moonlight over the Aegean – and observant children will pick up on some unspoken details in the spread of the hospital scene.
I had a number of questions that I wanted to ask the illustrator, Harriet Bailey and she kindly agreed to answer them. You can read her replies here.
Gordon Winch

was a

teacher

for over fifty

years

and has written a

number

of books for children.
Harriet Bailey is a designer and illustrator based in Wellington, New Zealand. She began her career as a graphic designer. In 2010, she was the inaugural recipient of The Storylines Gavin Bishop Award and since then has illustrated Hester & Lester (Random House, 2011) and Out of Bed, Fred! (Scholastic, 2011). Both books were named in the Storylines Notable Books List 2012 in the picture book category.
You can see other examples of Harriet's art and design work on her website.
Other books you might like:
You can find out more about Alec Campbell (nicknamed The Kid by his fellow soldiers, because he was so young and small) here, and here

on the Australian War

Memorial

site,

which also has an article about the last veterans from a number of different countries.
Have you read it?
Have you read this book? Let me know what you think!