The Great War: stories inspired by objects from the First World War
(Walker Books, 2014)
304 pages, with full page black and white illustrations by Jim Kay;
11 stories by David Almond, John Boyne, Tracy Chevalier, Ursula Dubosarsky, Timothée de Fombelle, Adèle Geras, A.L. Kennedy, Tanya Lee Stone, Michael Morpurgo, Marcus Sedgwick and Sheena Wilkinson.
Subjects: World War One, England, France, short stories (Year 5-8)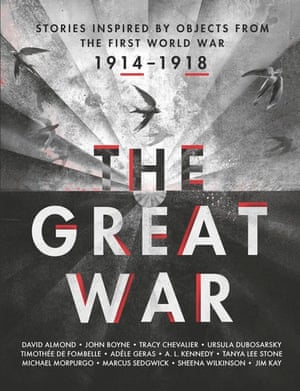 This anthology contains stories by English, American, French, Irish and Australian

authors

. Each author uses a particular object as the inspiration for a story about the First World War.

The objects include items belonging to individual soldiers – a helmet, a writing case, a compass. Some are printed material: sheet music, school magazines, a recruitment poster.

There is a French toy soldier, the nose from a Zeppelin bomb and a Victoria Cross and a Princess Mary gift box.

One of my favourite items was a hand-painted war time butter dish.
Some stories are set in the present day (a school history trip to the battlefields), others in the past. A number of them have girls as the main characters. One is a sort of ghost story. One is written as a poem. Many are firmly based in family life. As in all anthologies, some stories work better than others, but all are of a very high standard.
The pages at the end of the book contain biographical information about the contributors and pictures of their chosen objects. From the picture credits, you can work out where most of the objects come from (many are held in the Imperial War Museum), but I would have liked some more information about how the authors chose the object they wrote about. (
This article
in the Guardian shows some of the objects.)
Interesting random facts: Jim Kay won the Kate Greenaway Medal in 2012 for his illustrations for A monster calls by Patrick Ness and was chosen by J.K. Rowling to illustrate the full-colour editions of the Harry Potter series. Here they are!
And here he talks about his illustrations for The Great War.
Other books you might like:
War girls is another recent collection of war-related short stories.
The curioseum, although not war- related, is another example of using museum objects to spark a story.
The country you call home
by John Boyne describes the fierce debate amongst the Irish about whether they should support England in the First World War, when for years they had been fighting to get England out of Ireland.
The words that struck me most were from A world that has no war in it by David Almond, a story about a long-running neighbourhood feud. Near the end, the narrator is talking about all the wars that feature on the news every day. "Are we daft?" he asks. "Are we evil? Is it just the way we are? Are we acting out something that started with our ancestors? Is it in our bones and blood? Do we go to war because we're in love with war? Will we be asking those damn questions till the very end of time?"
The words stayed in my mind because I think a lot about writing books about war for children, and why we do it and what we are trying to say. Surely we want our readers to reflect on the futility of war, but as David Almond says, the wars just keep happening.