The general
by Janet Charters, illustrated by Michael Foreman (first pub 1961; Templar Pub., 2010)
Subjects: war, peace, flowers, animals, picture books (Year 1-8)
Having

finished 2014 with a book about peace, it seems like a good - and

hopeful

- idea to include

another one on the same theme at the start of 2015.
On the cover is a badge marking this as the 50th anniversary edition, with the words "A celebration of peace and beauty".
This is Michael Foreman's first book:
an anti-war story (written in 1961 during the Cold War) about General Jodhpur who wants to be the most famous general in the world. One day he falls off his horse and, lying in the grass, suddenly notices the beauty of flowers and nature. He decides to concentrate on peace, not war, from then on
.
This insightful review on The bookbag makes so many good points (about both text and illustration) that it's hard not to quote it in full. The reviewer points out that the book "was written in 1961 and it shows. It has a naivety (even for a picture book) that screams of the early 60s - all soldiers need is a flower and they'll toss aside their guns. I wish dearly it were true, but fifty years on, it seems almost too simple. The book isn't dated, but it is very much of its time. ..but the quality of the writing is great. The vocabulary is clear and direct, making it suitable for the youngest readers.
This was one of the books that began Michael Foreman's illustrious career, and you can see exactly why he's become one of the best-loved illustrators. His pen and ink drawings look stunning, perfectly capturing the rigidity of military life, then blossoming into the bright and varied colours of nature. His mosaic-like overhead view of a city is such a unique approach that you'll love seeing the moment of realisation on a child's face. Every page is a joy to pore over.

"
Michael Foreman was born in 1938, so he was only 22 or 23 when this book was first published. The Guardian published a lovely article in 2011 to mark his 50 years in print; it describes his childhood, how he became an artist, why he believes that t
hat "each day is precious" and
why "
so many of his books focus on matters of conflict and injustice

"
– fascinating stuff.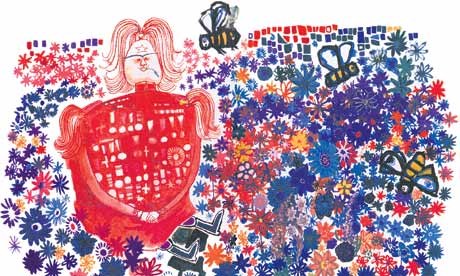 Trooping the colours ... from The General by Michael Foreman Templar
Janet Charters (now Abis) was also born in 1938 but I can't find out much information either about her, or about any other books she has written.
Other books you might like:
War game
by Michael Foreman also conveys a message of peace.
The story of Ferdinand
by Munro Leaf and The duck in the gun by Joy Cowley have a similar anti-war message to The General.